Ronald Card has been working as an Industrial Electrician for four years, but he's been keen on
electricity since he was a kid. That interest led him to an awesome career that's had some major
benefits.
Ronald takes a lot of pride in every aspect of his career, from the small tasks to the big jobs. He's doing something he loves, in a place he loves—doesn't get much better.
Is Industrial Electrician the career for me?
Do you like the sound of a workday that includes:
Working with your hands
Figuring out how equipment works
Working in the field, rather than at a desk
Problem solving
Seeing the results of your work each day
Working as part of a team
If you like that, you might like being an Industrial Electrician.
What does an Industrial Electrician do?
Industrial Electricians are the people who install, maintain, test, and troubleshoot equipment all throughout the electrical system—in generation plants, terminal stations, or substations. They may even be required to work at heights or in confined spaces at times.
One of an Industrial Electrician's key responsibilities is to power down isolated high voltage electrical equipment so it can be worked on safely. It's an important job, and safety is key so when working with test equipment, Industrial Electricians always wear personal protective equipment.
Where would I work?
In the two larger utility companies, many Industrial Electricians work as part of maintenance teams for generation plants, terminal stations, and substations. A large number of Industrial Electricians work with contractors in the construction of power generation, transmission, and distribution systems installing, testing, and commissioning equipment.
What training do I need to become an Industrial Electrician?
Graduation from high school
Completion of an Industrial Electrician nine month pre-employment program
Completion of four years working as an apprentice and the apprenticeship training blocks leading to Red Seal certification as a Journeyperson Industrial Electrician
Where can this career lead me?
As you gain experience as an Industrial Electrician Journeyperson you can pursue positions such as Lead Hand/Senior Journeyperson becoming responsible for supervising teams and work, and eventually a Senior Supervisory role.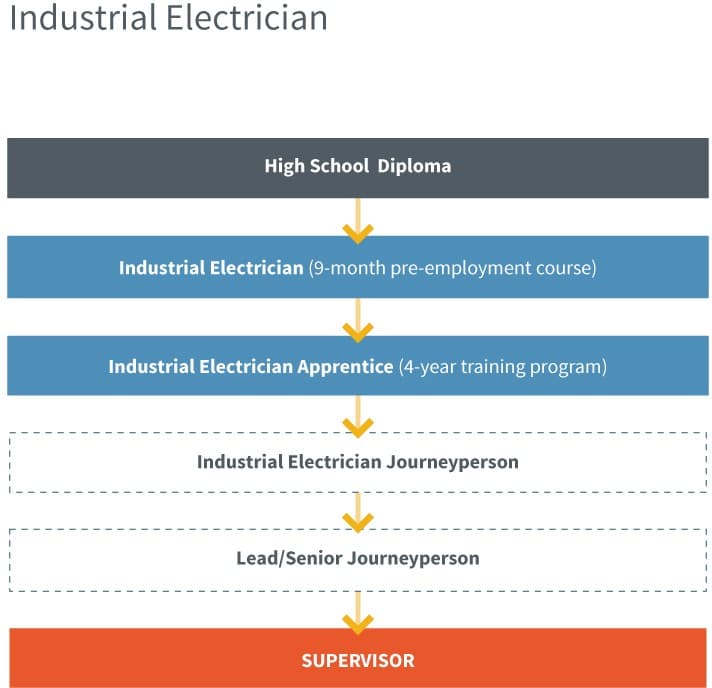 Check out these links for info on training, funding, and certification.
College of the North Atlantic, Industrial Electrician Program
DieTrac Technical Institute, Industrial Electrician Program
Academy Canada, Construction/Industrial Electrician Program
Advanced Education and Skills, Government of NL – list of accredited programs by AES
The requirements for registering as an apprentice with the province's Division of Institutional and Industrial Education, Department of Advanced Education and Skills are outlined at
http://www.aes.gov.nl.ca/app/registration/registration.html
Red Seal
Apprenticeship Incentive Grant
Apprenticeship Completion Grant