Dena Kavanagh has been working as an Electrical Engineer for seven years and is currently a supervisor. It's a career she became interested in early on, as her mum worked in technology. And now she's working in a similar area and is doing amazing things.
She describes engineering in Newfoundland and Labrador's electricity industry as being at the forefront of the field—it's a great professional challenge, but the quality of life is exceptional as well.
Is Engineer the career for me?
Do you like the sound of a workday that includes:
Figuring out how equipment works
Using science, technology, and ingenuity to solve problems
Building, designing, and maintain systems
Working as part of a team as well as on your own
Working with computers
Paying attention to detail
Well lucky you, there's a career for that! As an Engineer.
What does an Engineer do?
Engineers from electrical, civil, and mechanical disciplines work in the electricity industry in generation, transmission or distribution.
Some of the projects engineers in the electricity industry design and manage are the construction of hydroelectric dams, power generating stations, and transmission lines. When engineers assume the role of project manager, they estimate the cost of the project, prepare a project schedule and identify the resource requirements.
It's a great time to be an engineer in in Newfoundland and Labrador's electricity industry because right now there's a lot of renewal happening.
Electrical Engineer
An Electrical Engineer is involved with designing and implementing electrical systems, troubleshooting and investigating equipment trouble and providing solutions, and assessing new technologies and solutions. They supervise equipment installations and testing. Electrical engineers design systems that protect, control, and monitor the electricity system.
Civil Engineer
Civil engineers work on design and construction projects to rebuild, renew and replace portions of the electricity system. After several years of experience, a civil engineer may be responsible for project design from the conceptual stage through to final design. They are responsible for developing project budget estimates, and preparing work orders, material and equipment orders and contract documents. They evaluate and recommend contract awards, develop engineering standards, and manage construction and testing.
Mechanical Engineer
Mechanical engineers design, implement, and troubleshoot mechanical systems in generation facilities/plants. They prepare project estimates and manage construction contracts. They supervise equipment installations and testing.
Where would I work?
The electric utilities offer career exposure and development in various aspects of the industry. Engineers can choose to follow one of several career paths: operations, technical specialist or project engineer. Contractors in the electricity industry offer careers as project engineers and in some cases technical specialists.
Where can this career lead this?
Many companies in the electricity industry offer co-operative engineering work-term placements, providing an opportunity for students to gain valuable work experience and explore career options with employers.
As they gain experience, an engineer may pursue supervisory roles or specialize in a technical area.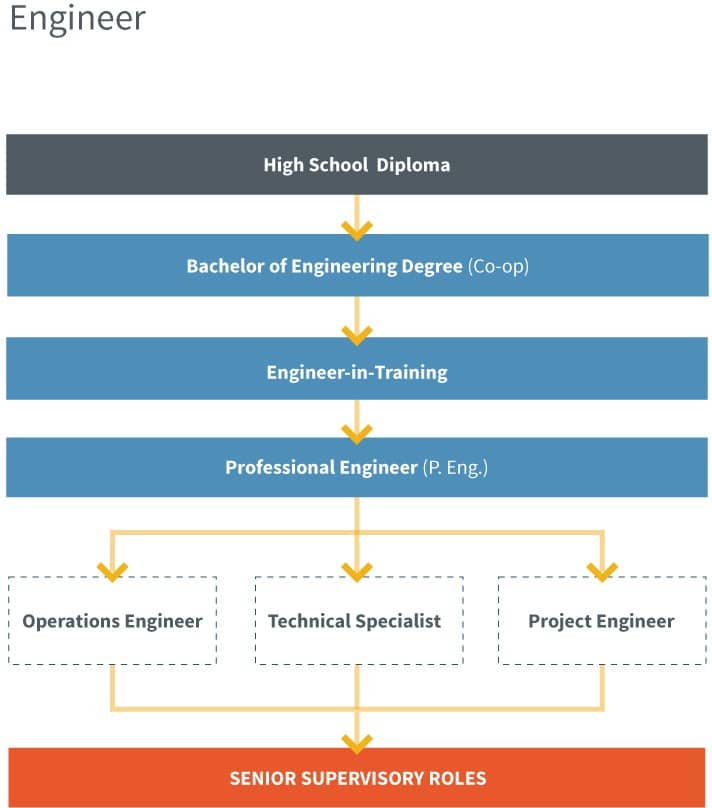 What training do I need to become an engineer?
Graduation with a Bachelor of Engineering degree
Check out these links for information on post-secondary programs and certification.
Memorial University
Professional Engineers and Geoscientists Newfoundland and Labrador